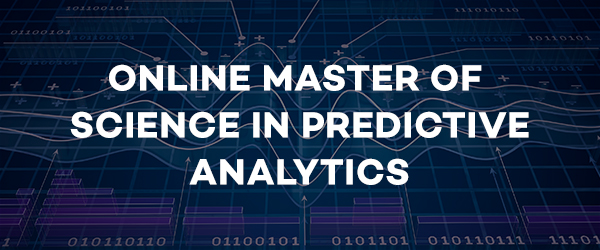 Develop the skills and expertise needed for this fast-growing field
Spring application deadline
JANUARY 15
Summer application deadline
APRIL 15


Visit us online by clicking on "Learn More" above, or speak with an admissions adviser at 312-503-2579.

Northwestern's online MASTER OF SCIENCE IN PREDICTIVE ANALYTICS program will ground you in both statistical concepts and practical application and help you develop the in-demand skills needed for a rewarding career.

PREPARE for leadership-level career opportunities by focusing on statistical concepts and practical application.
LEARN from distinguished Northwestern faculty and from the seasoned industry experts who are redefining how data improve decision-making and boost ROI.
BUILD statistical and analytic expertise as well as the management and leadership skills necessary to implement high-level, data-driven decisions.
EARN your Northwestern University master's degree entirely online.
Plus, you LEARN ONLINE, ON YOUR SCHEDULE — and study with a diverse and distinguished faculty of industry experts.

Find out if the Master of Science in Predictive Analytics is the next step for you.
"Everything I learned, like how to better forecast sales and analyze the customer experience, helped me at work. My role at work has grown, with a substantial increase in salary. It's made my job more satisfying."

— Raymond Anden (MSPA '13), marketing analyst at Extron Electronics
RELATED PROGRAMS
Master of Science in Health Informatics
Master of Science in Information Systems
Northwestern University
School of Professional Studies
339 East Chicago Avenue
Chicago, Illinois 60611