As far as we know, the earliest iterations of playing cards began to first appear in Europe during the late 1300's and early 1400's, after they were believed to have been imported from the East. Over the generations, these card games have undergone dramatic transformations until they finally arrived at the classic 52 decks four-suit arrangement that we are all so familiar with today.
Since then, it's estimated that over 10,000 unique games have been created, each with its own set of rules and objectives. However, while the old-time favorites such as Poker, Rummy, and Bridge are still as popular as ever, card games have continued to evolve with the digital age. As a result, there are now hundreds of new VR and online card games that come with impressive graphics, dynamic animations, and of course, a multiplayer aspect that allows you to go head to head against other players from around the world.
On that note, let's take a look at some of the best VR and online card games for 2022, including some of the original games that have had a digital makeover and some of the most popular CCGs (collectible card games) around today.
VR: Cards & Tankards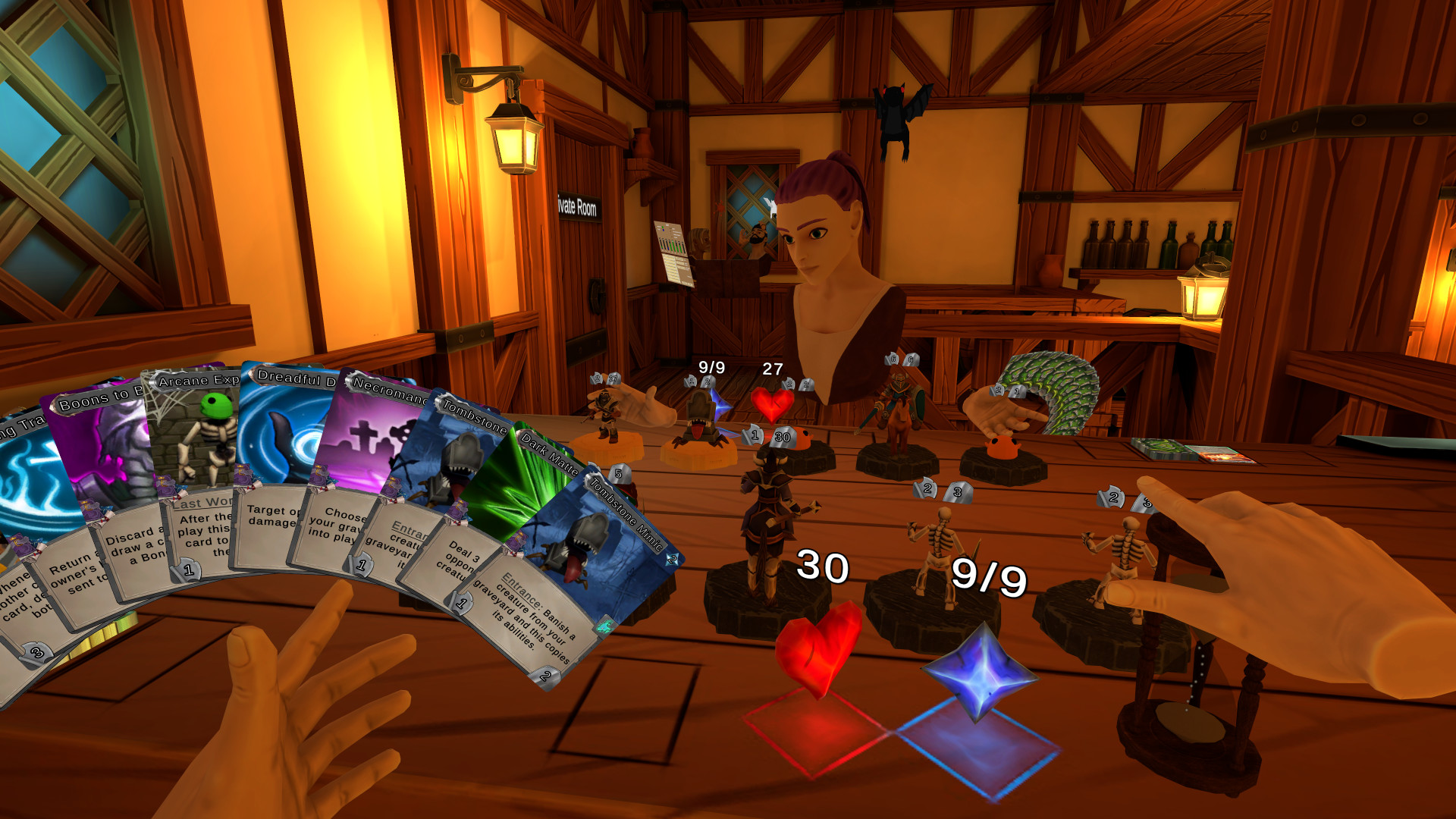 Cards & Tankards is similar to many of the other conventional magic card battle games out there, but with a twist. This is due to the fact that Cards & Tankards is the world's first VR social collectible card game. That's right, you can battle against the computer, friends, or random people from the other side of the world in a virtual environment from the comfort of your own home. As such, instead of playing on a regular screen, players must use a suitable VR headset, such as the Oculus Rift or the HTC Vive, to immerse themselves in an environment unlike any other.
In terms of gameplay, there are three factions to select from, each with a unique set of battle mechanics to master. Since the game is carefully balanced, players must rely on strategy and resource management to be successful. While there is a bit of a learning curve, there is a vast community of friendly gamers ready to help you get started, and because it's VR, you can genuinely feel like you're meeting other people in real life as you get to grips with how the game works. Interestingly, Cards & Tankards' entire premise is to replicate the old-school experience of walking into a vintage gaming store, meeting new people, and playing games together. It's safe to say they did an excellent job! If you already have a VR headset and enjoy card games, it's a no-brainer to give it a shot!
Online: SolitaireBliss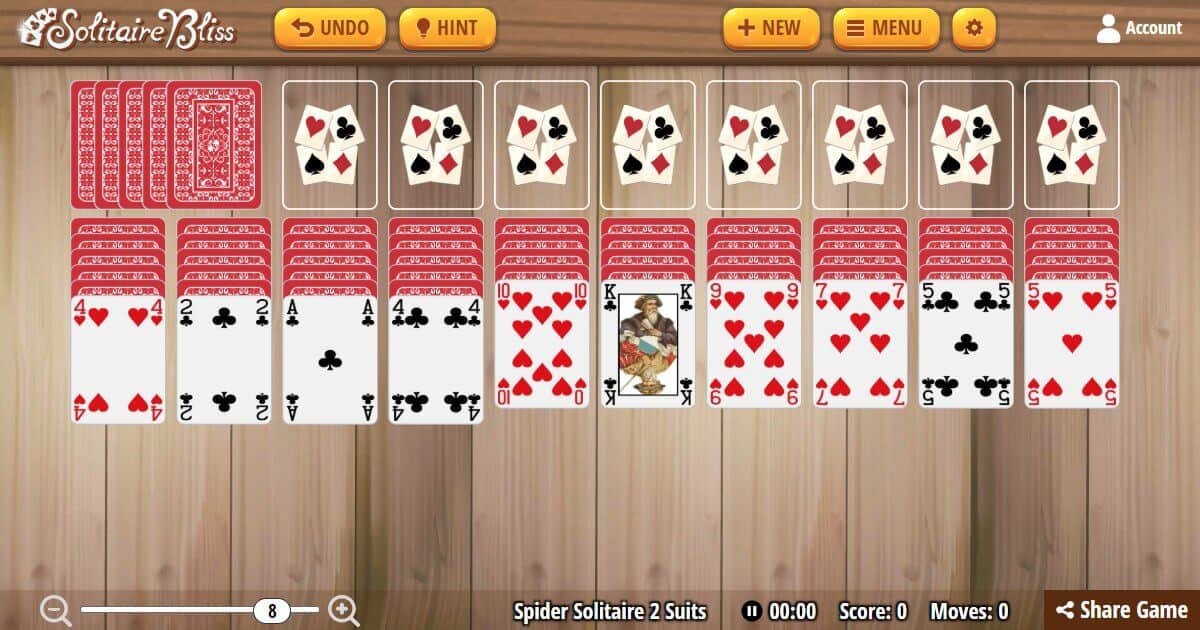 Taking it back to the old school! Solitaire has always been one of the most loved and widely played card games in history. The first versions of the game are believed to have originated in Europe toward the end of the 18th century, possibly as a form of fortune-telling. As we approach 2022, it's no surprise that the beloved solo strategy game receives a digital makeover from Solitaire Bliss, who has done an excellent job at modernizing the game and bringing in a ton of new features to help improve the experience, such as daily challenges, leaderboards, player statistics, and a wide variety of personalization options that allow you to customize the visual elements of the game (card backs, background, and animations).
One of the best aspects of Solitaire Bliss is the sheer number of game variations available, which include:
Solitaire (Turn 1 and 3)
Spider (1, 2, and 3 Suit)
Freecell
Forty Thieves
Pyramid
Golf
Yukon
Therefore, if you feel you have got one game mastered, you can switch over to a new set of rules and test out your skills there – and the best part of all? It's completely free to play.
VR: Tabletop Simulator
Poker and more, from the comfort of your HTC Vive or Oculus Rift! Tabletop Simulator offers a variety of games, from the non-card type (chess, mahjong, and dominoes) to poker, and allows both VR and non-VR users to play together. Another interesting fact about this game- users can customize and create their own games. That's right- you can forget the "classic deck of cards on a wooden table" theme and create your own custom tables, decks and more. You can then upload them to the Steam Workshop or share them privately with your friends. Another option is to browse games that other users have already created and shared publicly.
The best part about this game, however, is where the name comes from. That's right- if your VR poker face isn't helping you win….get frustrated and flip the table!
Online: Hearthstone
Blizzard Entertainment's Hearthstone is an online digital collectible card game based on the narrative and characters of their popular Warcraft franchise. The game was released in 2014 and has since become one of the largest and most popular digital card games. According to Blizzard, there were over 23.5 million active gamers on the platform last year, making it one of the most popular games in the entire world.
One of the main draws of Hearthstone is the fact that it is free-to-play. There's no need for an upfront investment – simply download the game, and you can start playing immediately. Before each game, the player must choose from one of the available nine classes, each with its unique ability and card sets. Then, you must contact your deck of 30 cards (out of 4689) that synergize with each other based on your class and play style. Once you are ready to go, you can play online against friends, compete in tournaments, or enjoy one of the many game modes on offer, such as Arena, Solo Adventures, Duels, and Tavern Brawl.
With a huge degree of freedom for players to learn and grow, a diverse online community with real-money tournaments, and one of the best storylines and visual graphics, it's easy to see why Hearthstone has become the top dog in the only card game industry.
Final Word
Card games have come a long way since they first arrived in Europe back in the 1300's. Thanks to the internet and modern technology, many variations of the old school classics such as Solitaire, Poker, and Bridge have all been given digital makeovers, allowing the developers to enhance the gameplay with various new features. On the other end of the spectrum, we now have wildly popular games such as Hearthstone and GWENT, which have become completely unrecognizable from the original 52 deck arrangement that we are familiar with. Yet, many game fundamentals are still based upon the original card games that we all know and love. With the vast majority of the games being free to play, there's no real reason not to give them a try, as you can enjoy hours of fun while testing yourself and improving your strategic thinking. What's not to love?