I was offered a surface for father's day this year. I had an old iPad that I've used for several years, and I was curious to know if you can use the Surface just like a Windows laptop. While it has great features, faster Internet, and much more, the answer is clearly no.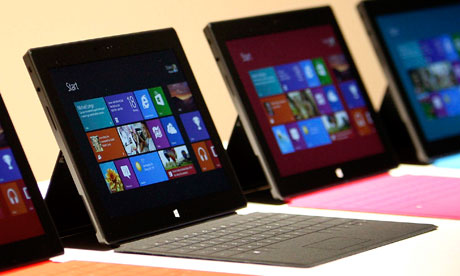 Here is a summary of all the problems I faced:
It sometimes upgrade software when you want to switch off your computer. It takes so long, you think your Surface went sleeping, you eventually turn it off. Unfortunately, when you switch on again, nothing works, not even the Internet. You have to spend an hour over the phone with tech support to fix the issue, because there's no online help, even if you search on Google with the right keywords, to fix this stuff yourself. The problem also exists with Windows laptops, to a lesser extent. Not sure why Microsoft hasn't invented procedures that can resume nicely after a crash. We lost the power today, and that was also a big problem with the Surface when the power came back (Internet issue). One day, the screen was totally black. It was another hour wasted with tech support to fix the problem. Hopefully, with time, we'll learn and recognize the most frequent crashes and be able to fix it ourselves, it's part of the learning curve, it's just a steeper learning curve than for the iPad.

I started to write this article on my Surface, and at some point decided to email it to myself, and retrieve it on my laptop, where I typically make the final content upload on DataScienceCentral. You could argue that I should have done a simple "copy" and "paste" from the Surface's notepad onto my website, but this has its own challenges (maybe solved by using a mouse). Anyway, I accessed my email via webmail on IE on the Surface, barely succeeded in reaching the "add an attachment" button half-way hidden below the screen, managed to attach the document. Once I downloaded it on my laptop, it was unreadable. A total waste of time, I had to re-write the whole article from scratch. This was one of the nice features I used on my iPad.

The Surface touchscreen is not as good as the iPad one: too many times, "click" does not work and you need to zoom in, move your finger around or refresh the webpage and start again. Sometimes (maybe once every 50 clicks) 5 or 6 attempts are necessary to "click" with your finger. Sometimes it's because the web page is frozen. The biggest challenge is accessing links in drop-down menus, for instance the "group" link on LinkedIn, under the "Interest" tab. It's just simply impossible, and that's one of the pages that I visit very frequently. I have to use awkward workarounds to bypass this defect. Hopefully, when I use a mouse, it will work. Or it's a browser bug that Microsoft will soon fix.

I tried to install Chrome but it failed. I was redirected to the the Window Store which has very few apps. Of course Chrome, FTP, Cygwin, Putty - that is, all the apps I am interested in - are not available. 

It took me 20 minutes to figure out how to access the Windows command prompt (Windows shell). But I did find it and was able to use the default Windows FTP client in the command line! Not something great, but it worked.

I still think it is superior to the iPad, but it's by no means a substitute for a laptop, not for a tech guy. Sure you can do a lot of things just with a web browser - you can run R remotely as an API via a browser - but it's cumbersome. I'm sure these tablets (iPad or Surface) were not designed to run data science projects entirely through web interfaces.
Related article