For me "Big Data" is only big if the data sources can be used to discover new knowledge. That new knowledge contains useful actionable information about your business obtained with a high ROI.
Recent IPO Splunk, Inc. (SPLK) focuses on what they call big data. Their software helps monitor user traffic data on applications, websites, or corporate networks. Companies can use this data to monitor things such as downtime or general system awareness. They call this real time activity machine data. This can be very useful to an online company monitoring customer click streams, transactions or just general network activity. But what about the other over 90% of big or just data that drives the success of companies. Splunk has a market value of 3.3 billion and trades at 25 times unprofitable sales of 120 million for the TTM.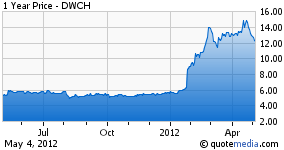 This leads to an investment idea Datawatch (DWCH). Datawatch trades for a 77 million market capitalization with profitable double digit sales growth. Datawatch gives access to much of the other ~ 90% of data needed to uncover new knowledge to improve the business. Their report analytics software won't allow you to uncover real time sentiment on twitter, click activity of a marketing campaign or monitor network traffic. But it will empower virtually all members of the corporation to leverage their expertise to solve real problems, offer solutions or uncover new approaches. How .. by creating live data for analysis using reports that have been reviewed, audited and distributed in all functional areas of the company. Their report analytic software pulls this clean static data locked in reports, generated from multiple large/big data sources and makes it available for further analysis in Excel, Access, BI software or countless other applications. Then that data if needed can be join to other sources in databases, spreadsheets, reports or anything that can be saved as a report like any web page on the internet. Virtually any application can be used if wanted to perform further analysis or the data can remain to be furthered analyzed within the functional rich Datawatch report analytic environment. What makes their report analytics software unique is the ability to mine and join static report data from countless sources not just corporate applications buy sources such as PDF, HTML, text,databases,XPS, spreadsheets, and other sources to discover new knowledge.
Read full story at http://seekingalpha.com/article/561471-datawatch-the-other-big-data...